Safety
MPUSA SAFETY RULES | MPUSA FIELD RULES
The following rules are for your safety, as well as a requirement by our insurance carrier. The rules are enforced at all times, and apply to everyone who enters our premises.
All players must wear FULL FACE MASK while away from the staging areas, during the games, or when instructed by the referee. If your view thru goggles is severely restricted due to paint and/ or fogged up lens, please signal the referee for assistance but NEVER REMORE YOUR FACE MASK, wait for help.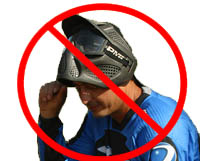 You may NOT remove your Face Mask for any reason while a game is in progress, you may clean your goggles between games at the staging area only.
Barrel plugs must be in your marker, and the safety device must be ON at all times except when a game is in progress, or when instructed by the referee.
While in our playing fields, Referee's word is final. You must respect referee's ruling regardless of your own opinion. The field manager will be happy to discuss any concern, suggestion, or an opinion that you may have regarding our safety rules. There will be no verbal abuse and/ or physical threats by anyone at anytime. Violators may be ejected from the premises without a refund.
You will certainly get hit with paintballs during games. Don't get too frustrated, get even, just paint your opponent. You will have more fun if you focus on the fact that paintball is a game. Like any other sport, you'll do well when you have a strategy or a plan to play this game. Aggression is neither a strategy nor a plan.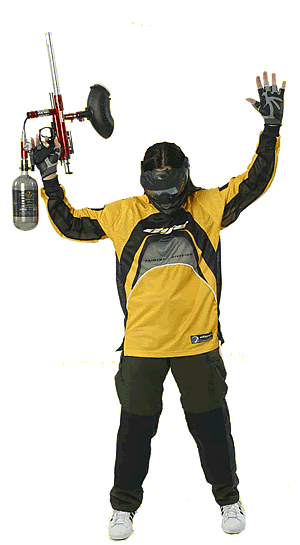 If your opponent is within twenty (20) feet of your range of fire, you must first offer 'surrender'. You may take a single body shot at your opponent only if he/ she ignores your offer or takes aim at you. No headshots at this short range. You may be removed from the game if you violate this rule.
Absolutely no shooting within ten (10) feet
In order to determine your marker's firing speed, you must test your marker at the shooting gallery prior to entering the playing fields. The chrono speed range indicator must not exceed 250 FPS for beginners and 250 FPS for intermediate.
This is an outdoor sport, and you will be playing in various fields throughout the day. while we try to maintain our fields in the most desirable condition, due to the natural settings and the rugged terrain, we strongly advise that you always stay alert and remain with your group at all times. Although it has been rare, in case of an injury please immediately signal your referee or notify the field staff closest to you. They will be happy to assist you.
At the referee's discretion and instruction, observers may watch a game from a safe distance while wearing goggles.
---
MPUSA FIELD RULES
You must complete the waiver form and register at the admission office when you enter. You will be given a bar-coded wristband to wear while on the premises. You must retain the wristband while on our grounds.
For rental equipment you need to leave a valid credit card as a security deposit. We will return the security deposit to you when you clear the rentals at the rental connex and return the rental agreement to the admission office.
FIELD PAINT ONLY ON OUR RENTAL EQUIPMENT. You may not bring paint from outside, when you are renting our equipment. Outside paint will be confiscated if used in our rental equipment and you may be ejected from the premises without a refund. Paint must be purchased here at the field for use in our rental equipment.
No drugs or alcohol. We have a zero tolerance policy for this rule.
Due to potential fire hazard, smoking is not permitted in the staging areas or the playing fields. For your own health as well, please refrain from smoking.
Do not leave your paintball gear unattended. You are responsible and accountable for your gear whether you own or rent.
All rental gear must be returned to the rental connex when you finished playing or before you leave the premises.
Unauthorized coupons or passes will not be accepted. Please check with the admission office to verify the validity of these passes.
You must remain with your assigned group; only a referee or a staff member may make a change.
Unsafe play, unnecessary roughness, and profanity are grounds for ejection from the premises.
If you are under eighteen years of age, a parent or a guardian must sign the waver on your behalf.
---
In order to ensure safe and fun play for all, the following rules of engagement are strictly enforced:
Honor Code
Airsoft is a game of honor. Please call your own hits.
Mind your own hits. Do not call opposing players out.
Show respect for other players in both your words and actions.
Follow both the letter and intent of all scenario based rules and restrictions.
Follow the prescribed Med-Evac or Regen procedures. "Wounded" soldiers do not chit-chat!
Do not intentionally move into or engage other players within the 15 foot buffer zone. No "bunkering".
Use the "Bang, Bang!" rule if you have another player "dead to rights" at close range.
Use the "Parlay" rule if you and another player come into contact at an unsafe distance.
No blind fire. You must be able to see with your own eyes what you are shooting at.
No hosing. Give opponents a chance to call themselves out between bursts.
Subordinate players should observe and respect ranks such as Squad Leaders and assigned Officers.
Ranking players should recognize that rank is a tool to provide structure and enjoyment to the game.
Weapons should be made "safe" and magazines removed when in a staging area or other "safe zone".
If you find a lost item, it should be turned in to Game Control as soon as possible.
MPUSA Airsoft Safety Code
Proper eye protection must be worn at all times while on the field.
"Blind Man" should be called to stop the game for a loss of eye protection or medical emergency.
All weapons brought into the AO must be within the chrono limits set by Game Control.
Velocity reducers are not allowed.
Discharging weapons in a "safe zone" is strictly forbidden.
Theft, assault, or any other violation of the law will result in your arrest by local law enforcement.
No smoking outside of designated areas. No smoke or pyrotechnics allowed.
Do not litter the AO. Pack up and dispose of your trash in an appropriate manner.
Though not required, players are encouraged to use "Bio" type BB's.
---
Proper Eye Protection:
All players are required to wear ANSI-Z87 (or equivalent) rated FULL FACE MASK or paintball mask which enclose the entire eye area and conform to the features of the face with a rubber or foam seal.
Maximum Chrono Limits:
– It is the player's responsibility to make sure his/ her gun is properly inspected and tagged before the game. Velocity reducers are not allowed.
Assault Rifles & SMGs (Full Auto GBBs/ AEGs)- 15 Feet Minimum Engagement Distance
– Maximum of 375 FPS with a .25g BB (1.6 Joules)
Sniper Rifles (Semi Auto Rifles) – 50 Feet Minimum Engagement Distance
– Maximum of 440 FPS with a 6mm .36g BB (3.3 Joules)
– Maximum of 455 FPS with a 8mm .34g BB (3.3 Joules)